Two Fat Birds was created in London, UK and we now live in Hong Kong.
Cynthia
I first started making greeting cards as part of a charity fundraiser. Although I have always loved to paint and sketch, working in a big city like London means that it can be challenging to find time to be creative. The fundraising project reminded me of how much I love to make and create and soon after, we were inspired to start Two Fat Birds.
My cards are all hand crafted and each card is unique in colour and design. I hope you enjoy them as much as I enjoy making them!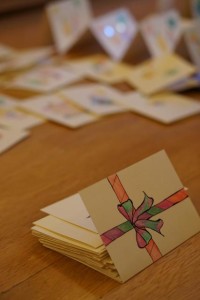 Making Christmas cards
Hsiang
I've always enjoyed working on the tech side of things and when Cynthia started creating these beautiful cards, I felt that they should be shared with a wider online audience. I love the idea of Two Fat Birds - a simple, cheeky and creative brand.
After each card is crafted, I photograph and share the products on the shop. The greeting cards are perfect for any occasion - whether to say "I love you", "Happy birthday!" or just "What's up?". We also welcome personalisation requests - just drop us a line and we would be happy to help you create your perfect card.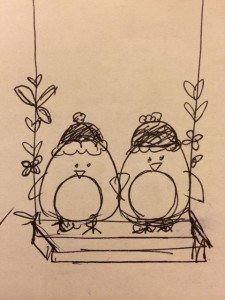 An early sketch of one of Cynthia's designs